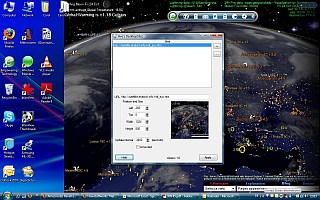 Active Desktop replacement for Vista and IE7
AveDesktopSites is a small program that replaces Active Desktop. Active Desktop has not been supported since Windows Vista or Internet Explorer 7. The displayed web pages cannot be clicked on.
(
Download
, source:
http://mpj.tomaatnet.nl/vista
)
Unfortunately, the program has no installation routine. Therefore, please unpack the files in a folder and make a shortcut to it in the Startup folder. Then configure the page to display.
---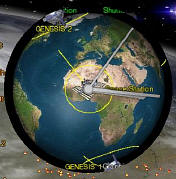 With the Earth Clock from Xentax.com you can make a clock widget for XP and Vista, using maps from this website. The example on the left shows the position of the ISS. You can of course also use the views (Earth From The Sun), (Antarctic) or whichever you desire.


(Download
, source: http://earthclock.xentax.com)