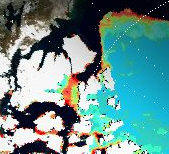 Whilst these news possible are not featured as prominently in the media, after only a week of being passable, the North West passage is frozen closed again.
For fairness I thought I should give these headlines as much space, as the news of its opening. It's still going to be a long time before regular shipping will be able to take a shortcut over the North Pole.
It is still a warning however. The introduction of the "
Arctic Screensaver
" will make it possible for everyone to keep a close watch on what's happening in the far North, without media bias.
Improved Zoomability of Natural Earth Map
Since a few weeks it's possible to click the Earth Moon image on the start page to zoom to the "Natural Earth Map". Further zooming now takes you straight to the full screen continental maps.