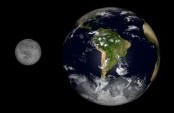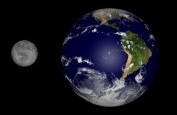 I made a cosmetic change to the display of the maps.
The standard "NASA Blue Marble Next Generation" maps have very dark oceans, as seen on the left.
You may have grown used to the dark, almost black, oceans, but it's not really the way the Earth looks. The new blue shade is shown below the old picture.
Satellite Look Up Tool is repaired
NASA changed the way in which its Spacecraft Master Catalogue is queried. The changes have been incorporated and the relevant pages are fixed.